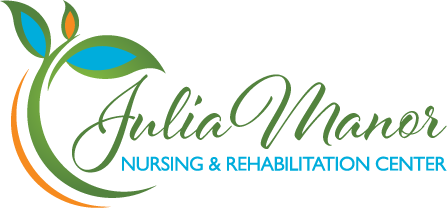 COVID-19 NOTIFICATION
May 26, 2022
Total Number of Newly Confirmed COVID Cases This Week: 
Staff:  2
Residents:  0
Date of Last Newly Confirmed COVID-19 Case: 
5/26/2022 
Date of Expected Outbreak Clearance: 
6/9/2022
Visitation Status: 
Julia Manor was cleared of our COVID-19 outbreak on Monday, May 23rd, but we went back into outbreak on Thursday, May 26th, when two employees tested positive.  Indoor visitation may continue at this time but outdoor visitation is strongly encouraged.  During all visitation, we require all visitors to adhere to the core principles of infection prevention.  These include following our screening procedure upon entry into the facility, the use of hand hygiene in the form of alcohol-based hand rub, wearing a face covering/mask during travels throughout the facility, and physical distancing at least six feet between all staff and other residents. Thank you in advance for your assistance and dedication toward keeping all of our residents and staff safe.  Our visitation hours are from 9AM to 8PM every day. 
Additionally, we wanted to take this opportunity to pass along the vaccination figures of both our staff and residents.  As of the date of this letter, 95% of our residents and 92% of our staff are fully vaccinated against COVID-19.  We continue to encourage the vaccine and booster doses to all staff and residents as it is our greatest defense against the virus.  Please contact our facility at any time with any questions regarding our vaccination efforts.
Facility Safety Precautions:
We continue to practice the enhanced safety precautions that are known to prevent the spread of COVID-19, such as only essential personnel are allowed inside the facility and we screen them for signs and symptoms of illness prior to entering. Our residents are continually monitored and staff is using PPE as recommended by the CDC. Staff is frequently reminded and encouraged to practice social distancing and to use hand sanitizer and frequently wash their hands when they are in the facility and out in the community.  We ask them not to report to work if they have symptoms of illness. 
Thank you for your support throughout this pandemic, and as always, if you have any questions or concerns please contact us directly at 301-665-8700.
Sincerely, 
Jared Zampelli
Jared Zampelli
Administrator